Openspace is in the iconic 'Yellowbricks' building in Hulme. Our unit is part of the Work For Change Co-operative.
The address is Unit 1, 41, Old Birley Street, Manchester M15 5RF
There is on-street parking right outside (free for 1 hour).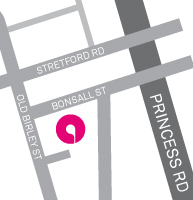 Just look out for the OpenSpace sign on the gate next to 'Kim By the Sea' cafe.
Getting Here
Walking: We are 10 minutes walk from the city centre, Manchester universities and the Manchester Science Park.
Bike: There will soon be bike storage facilities within OpenSpace itself.
By bus: The 86 bus route passes by our door, ask for the Birley Fields stop before ASDA Hulme.
By train: We are a 10 minute walk away from Oxford Road train station. The 86 can be caught from Oxford Road.
By car: We are just off Princess Parkway, A5103, near where it meets the Mancunian Way (A57M). There is plenty of free, on street parking on Old Birley Street and a car park within the building complex.
If you are arriving by car or bike, you need to turn off Old Birley Street onto George Parr Road and then take a right onto Ormsgill Street, around the back of the large 'Yellowbricks' Work for Change building. Another right turn takes you through large metal gates (open until 12 midnight) into the building's courtyard.
As you come through those gates, the Openspace part of the building is immediately in front of you - it's the only section which is only one storey high. Bear to the right of the Openspace extension and you'll find our red double doors with the logo in pink on the wall next to them.